We're Getting Mutants in the MCU - The Loop
Play Sound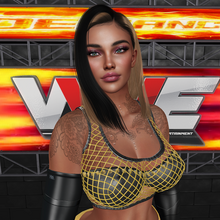 Jaidyn Rayne Hargrove is an American professional wrestler signed to VWE under her ring name "The Gold Standard" Jaidyn Rayne.  She was born on February 1, 1993, making her 29 years old.  She currently resides in Sunset Key, Florida USA. She stands 5 feet 8 inches tall and weighs 155 pounds.
Rayne was trained for competition by multi-time wrestling champion Natalie Sonnen, employing a style of flashy technical maneuvers and pure traditional wrestling, along with select MMA stylings as well.
She is a two-time NCAA Champion in 500-yard Freestyle Swimming and was an alternate to the 2012 USA Olympic Team.
She has master's degrees in accounting and business administration from Florida State University.
WPWF:
Rayne debuted for WPWF at Rebellion Rumble 2018 entering the Rumble match as entrant #3 and took the fight straight to entrant #1 Lady Death. Rayne would last until the midway point until she was eliminated, together with Honey Bluntz, by Lady Death. Rayne eliminated Marcy "Sass" Schafer in the Rumble match. To this date, Rayne remains the only female in wrestling history to ever gorilla press the 200-pound Lady Death above her head.
RETIREMENT:
Rayne left professional wrestling in 2018 to work in her father's company as Assistant Chief Financial Officer.
VWE:
Rayne returned to pro wrestling in February 2020 as a member of the Pulse wrestling roster. She defeated Yukitama in her debut match but incurred the wrath of the 6-foot-5 Venus, who saw her as a bully due to the way Rayne treated her opponent both in the match and the aftermath of. Venus challenged Rayne to a match on the spot, but Rayne declined, saying that match would happen "on her time." A second challenge also went declined when Rayne stated that Venus already had an opponent in Horses Morrissey. Rayne sat at ringside to watch the match then struck with a steel chair, allowing Morrissey to score an easy win. The following week, Rayne faced Ashley Wilson in a match. At a late point in the match, Rayne went for her signature "gold knucks," which were taken away Venus. The distraction allowed Wilson to score the rollup victory. An enraged Rayne finally accepted the match with Venus for Pulse Ground Zero: City of Gold.
At "Pulse Ground Zero: City of Gold," Rayne and Venus finally met inside the ring. Rayne employed a cat and mouse strategy at the start of the match, dodging Venus' lockup attempts, exiting the ring until the referee would force her to return. Once the in-ring action began, Rayne performed surprisingly well against her much larger and more powerful opponent, even coming within a split second of winning the match after countering Venus' signature Choke Slam into her own signature Rayne Cutter. Rayne was disqualified after striking Venus with a kendo stick.
At Pulse Supershow on 5/7/2020, Rayne and Venus would meet for the final time in a "First Blood" Match. Both competitors pounded each other unmercifully, looking for the quick win. Toward the end of the match, Rayne again went for her "gold knucks" but missed with the Solid Gold Knockout. An enraged Venus began to chase Rayne around the ring. Rayne took advantage of the situation and hit a drop toehold, propelling her opponent face-first into the steel steps, drawing blood and winning the match.
TITLE CONTENTION:
After finally defeating Venus, Rayne announced that her goal was to become the Pulse Womens Champion, calling out the current champion, Heiress Islay, on multiple occasions in social media and on live television as well. Rayne's challenges went unanswered when Heiress was called up to the main roster.
JAPAN
Rayne was part of a contingent that traveled overseas to Japan to help VWE become established in the country. She competed against many talented Japanese superstars and learned a lot about different styles of wrestling.
RETURN TO VWE
Rayne made a shocking return to Pulse Wrestling on October 18, 2020, attacking the newly crowned Pulse Womens Exhibition Champion Rachel Dune.
Rayne faced Dune the next week on Pulse and defeated her for the title due to a distraction when Louve McMahon's video played on the Tron.  Dune would blame Rayne for that distraction, but later McMahon admitted to playing the video herself, absolving Rayne.
Rayne lost the Pulse Womens Exhibition Championship back to Dune in December of 2019 in a triple threat match with McMahon.
Rayne confronted Seba and General Manager Kerok, demanding an opportunity to face Seba for the Pulse Womens Championship.
Rayne was given a way when Kerok stated that the title match between Seba and Yukitama was set and could not be changed.  Rayne was to face Yukitama the following week and if she won, Rayne would be added to the title match, making it a triple threat.
Rayne defeated Yukitma the following week, earning her title opportunity.
Rayne defeated Yukitama and Seba to become the Pulse Womens Champion.  Yukitama hit her Sky Twister Press on Seba but was thrown from the ring by Rayne who took the pin on Seba herself, to become champion, enraging Yukitama who felt her win was stolen.  Rayne was chased away from the ring by a Kendo Stick-wielding Yukitama.
Rayne would go on to successfully defend her title against Yukitama, Sophia Graves, and Ashley Wilson.
Rayne faced Yukitama and Ashley Wilson in a triple threat match for the championship.  Yukitama went for Rayne's injured left knee, striking repeatedly with a Kendo stick, eventually forcing Rayne to tap out, thus losing her championship.
Following Rayne's loss of the Pulse Womens Championship, she left on sabbatical overseas to Japan, to rest and recuperate.
After several months, Rayne arrived back in the States in October of 2021 in prime shape with a new and sharply improved focus.
Rayne defeated Ava Constantine in her return match on VWE Versus and cut a scathing promo afterwards, ripping the fans who cheered her, saying that they were never there for her before, and she doesn't need or want them now.
Rayne lost to Viola Beaumont on EDGE but admitted to being star-struck in the match, due to the fact that she was wrestling one of her early idols.
Defeated Kylie Vane on VWE Versus, increasing her Versus record to 2-0.
Competed at Wrestleseries 13 in the Extreme Championship Battle Royal.  As the battle royal was a "bring your own weapon" affair, Rayne brought a steel chair into the ring and used it repeatedly against Sybille Halsey, Terra Nova, and Kylie Vane.  Rayne eliminated both Nova and Vane but was herself eliminated along with Halsey by The Crisis.
On the 2/11/22 inaugural episode of VWE Defiance, Rayne attacked "The Bad Apple" Tracy Stollings after her match with Ava Constantine, over having been slighted when Tracy wanted a new challenge.
On the 2/18/22 episode, Rayne would strike against Stollings once more, assisting "The Star" Christina Krovac in becoming the #1 Contender for Viola Beaumont's VWE Womens World Championship.
Rayne defeated Terra Nova on the 2/20/22 edition of VWE Versus, maintaining her undefeated streak, and increasing her Versus record to 3-0.
Rayne competed on 2/25/22 at VWE Battlelines 2022 in a triple threat match for the VWE Womens National Championship.  Rayne was moments away from winning the match and becoming the new champion when Tracy Stollings broke up Rayne's finishing "Gold Rush" allowing champion Betty Hiess to score the pinfall thus retaining her championship.
Rayne competed against Tracy Stollings one-on-one on the 3/4/22 edition of VWE Defiance in a Queen of the Arena qualifier match.  Rayne defeated Stollings and advanced to the Queen of the Arena ladder match on 4/8/22.
Rayne defeated Terra Nova again on the 3/20/22 edition of Versus after Nova had asked for another opportunity to face Rayne.  Rayne stated on Twitter she would use no moves that she used in their previous match.  Rayne's undefeated streak continues to 4-0.
Rayne tried to interfere in the 4/1/22 Last Chance Fatal Four Way to determine the fifth competitor in the Queen of the Arena ladder match but tripped over Karen Wilson, allowing Ava Constantine to prevent the interference, sending "Bad Apple" Tracy Stollings into the fifth and final slot.
Rayne competed against Betty Hiess, Tracy Stollings, Danni, and Sybille Halsey in a ladder match for the Queen of the Arena Briefcase.  Rayne had her hands on the briefcase and had the clasp opened but was unable to secure the briefcase when she was DDT'd on the top of the ladder, sending her over the top rope and through a table, eliminating her from the match.  Tracy would go on to win the Queen of the Arena Ladder Match and Briefcase.
After healing from injuries sustained in the QOTA match, Rayne left to wrestle once more in Japan over the summer of 2022 but was called back home to assist with a management change in her father's company.   Rayne continues to train independently, preparing for a return to VWE in the fall of 2022.
PERSONAL
Hargrove is reportedly single and not looking.